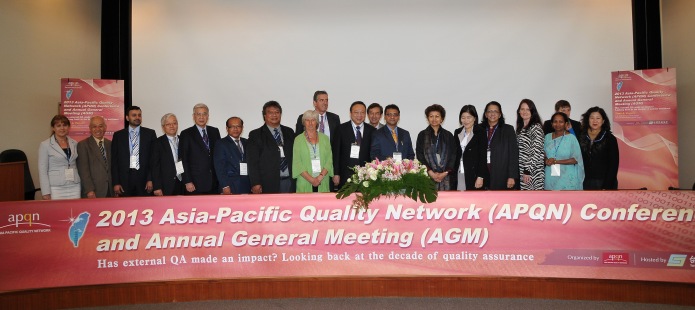 APQN Conference 2013 was held in Taipei, China on 7-8 April 2013. The Conference was hosted by Taiwan Assessment and Evaluation Association (TWAEA).
The main theme of the Conference was "Has external QA made an impact? Looking back at the decade of quality assurance".
APQN objectives 2013:
1. To celebrate the APQN Decennial anniversary.
2. To reflect on expectations and achievements of Quality Assurance (QA) in Higher Education.
3. To highlight current challenges and issues of QA in Higher Education.
4. To share good practices in QA of institutions and quality agencies.
5. To enhance regional cooperation amongst QA agencies.
6. To share a regional vision on quality in higher education.
APQN Conference 2013 was opened with the Introduction by the Chair of the Organising Committee (TBA), welcome speech of APQN President Dr. Jagannath Patil and welcome remark of Dr.Victor W. Liu (the President of Taiwan Assessment and Evaluation Association (TWAEA).
Panel discussions and round tables were devoted to the following topics:
- Quality Assurance in Taiwan: The impact of the first decade. Chair: Dr.Paul S.C.Hsu (Founding Chairperson and Chairperson Emeritus of TWAEA)
- External QA impact. Chair: Dr. Jan Cameron
- Reflections on 10 years of APQN and future ahead. Speaker Dr. David Woodhouse (Founder Secretary, APQN)
- Asia Pacific Quality Information Portal and new initiatives of APQN. Chair: Ms. Zia Batool
NCPA Deputy Director Prof. Galina Motova made the presentation "Accreditation: reset" devoted to three stages in quality assurance for Russian higher education.
The presentation revealed the history and the present day situation of the Russian quality assurance system. The main focus was on the three stages in the development of QA in Russia: the innovation stage, the European stage, and the separation stage, and the difference between the state and public accreditation procedures. The separation stage was characterized by the division of functions between state and public accreditation and the emergence of new players in the Russian quality assurance arena – non-state quality assurance agencies. One of the newly established public accreditation agencies – the National Centre for Public Accreditation – was introduced.
Several parallel sessions were held relating to the following topics:
• Quality assurance in different countries (Japan, India)
• Knowledge management for internal quality assurance in higher education: a review of implementation of research university in Thailand
• Role of National Quality assurance framework in accelerating quality improvement of higher education – experience of NAAC
• The gap between internal and external evaluation – analysis of the objection reports
• Challenges in Quality assurance in self0financing
• The international interactive platform of education quality accreditation – A case of China's MBA accreditation
• IQAC – 12 Point's for Quality improvement
• Student engagement in quality assurance: European lessons and local experience

More information is available on APQN website