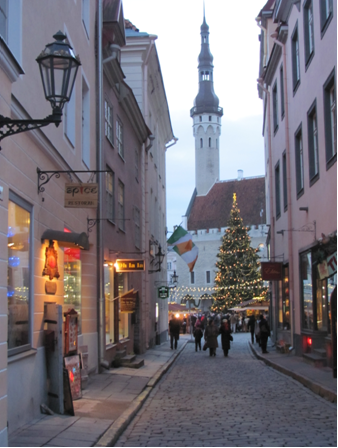 The 7th European Quality Assurance Forum (EQAF) co-organized by ENQA, ESU, EUA and EURASHE, took place on 22 – 24 November 2012 in Tallinn (Estonia).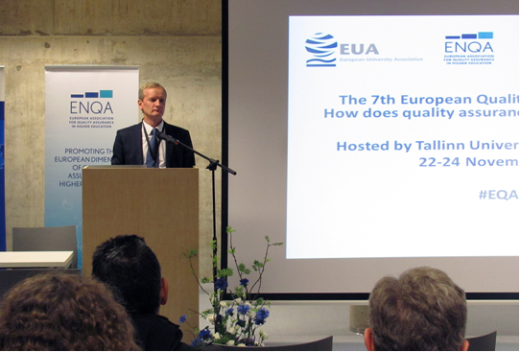 A word of welcome by Tiit Land, Rector, Tallinn University
The EQAF first held in 2006 is aimed at fostering a dialogue on quality assurance in order to build a truly European wide discussion on quality assurance in higher education. It brings together all of the key stakeholders of the field, Higher Education Institutions, Quality Assurance Agencies and Students.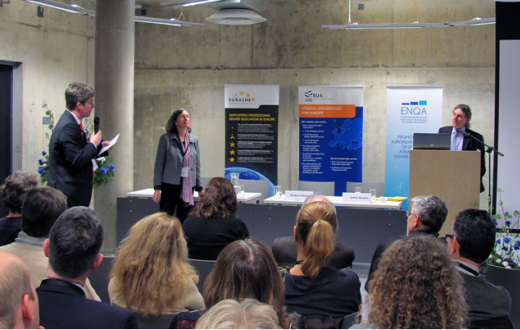 Discussion with the chair and the audience after the keynote lecture by Jethro Newton, Emeritus Professor of Higher Education Policy Studies, University of Chester, UK
Through a mix of plenary and parallel sessions, the 2012 EQAF, entitled 'How does quality assurance make a difference?', combined practice-oriented or research-based discussions with presentations of current developments in quality assurance (QA). This year, the Forum specifically explored the impact of external and internal QA on higher education policies and institutional realities. In this context, the sessions were aimed to address issues such as external evaluation and institutional follow-up; the relationship between QA, pedagogical approaches and student learning; QA supporting institutional aims and profiles; QA supporting informed decision-making; and the role of QA in globalised higher education.
As in previous years, EQAF offered a unique platform for the Quality Assurance and Higher Education communities to anticipate, shape and follow the latest developments in the field. The event brought together 350 participants; more than 30 workshops and paper sessions were delivered presenting experience of institutions, researchers, students, academics, quality assurance agencies and interest organisations from 20 countries.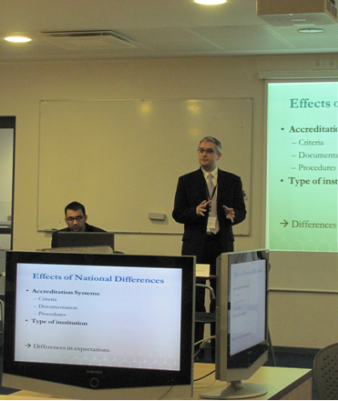 Harald Scheuthle, evalag, Germany and Aras Viligaila Vėbra, Vilnius University of Applied Engineering Sciences, Lithuania at the breakout session "International accreditation – effects of national and cultural differences"
Keynote presentations – 'Is quality assurance leading to enhancement?' by Jethro Newton (Emeritus Professor of Higher Education Policy Studies, University of Chester, UK), 'What are the lessons for QA from the recent US discussions on the future of accreditation?' by Sylvia Manning (President, Higher Learning Commission, USA), 'Recent European policy developments in quality assurance' by Tia Loukkola (European University Association),'New international policy developments in quality assurance' by Dorte Kristoffersen (Commissioner, TEQSA, Australia) and Anthony McClaran (Chief Executive, QAA, United Kingdom) and others – provided a fresh viewpoint and captivated the audience members, stimulated discussion and motivated them to look at the issues discussed in a new and different light.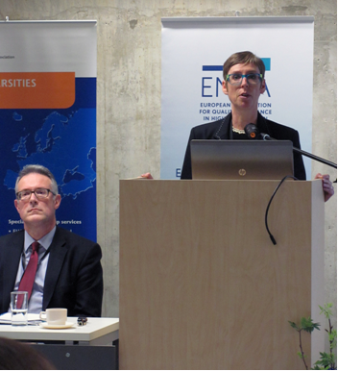 Keynote speaker: Dorte Kristoffersen, Commissioner, TEQSA, Australia
The National Center of Public Accreditation – NCPA, Russia, was represented at the EQAF-2012 by Zhanna Kuzminykh, Head of International Relations Department, who together with Linda Messas, General Manager of Association Européenne des Conservatoires – AEC (the Netherlands) delivered a breakout session 'International cooperation in discipline-specific quality assurance: NCPA-AEC joint accreditation of Russian higher music education programmes', followed by discussion with the chair and the audience. In the result of the discussion of the joint NCPA-AEC accreditation of study programmes offered by the Gnesins Russian Academy of Music and the Victor Popov Academy of Choral Art, the breakout session participants agreed that international joint initiatives in higher education quality assessment provide a solid basis for achieving a common understanding of how external quality assurance processes and procedures in higher education can and should be improved through strengthening relationships between national education structures and European quality assurance ornanisations.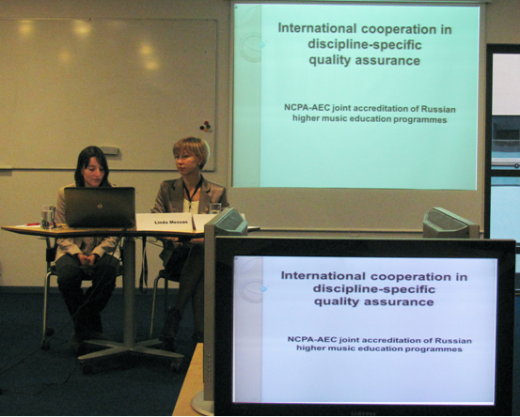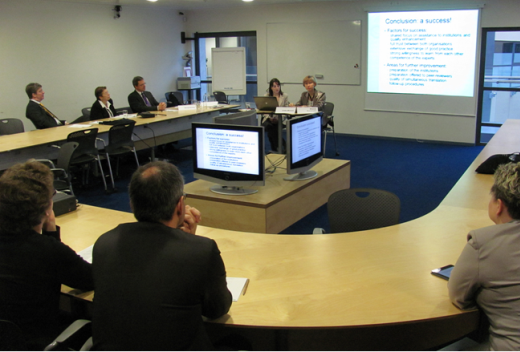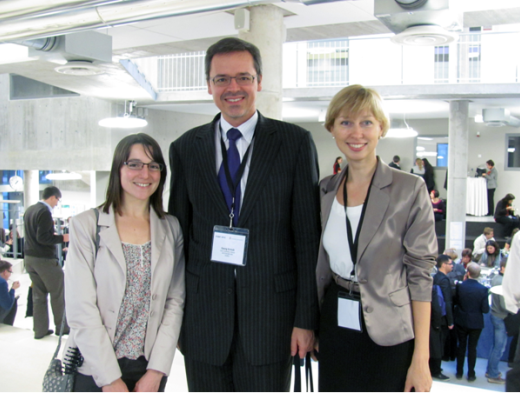 Zhanna Kuzminykh and Linda Messas with the Session Chair Georg Schulz, Rector of Graz University of Music and Dramatic Arts, Austria
More information is available on the event website