NCPA / ACQUIN JOINT SEMINAR
On 8 October 2012 the National Centre of Public Accreditation (NCPA, Russia) in collaboration with the Accreditation, Certification and Quality Assurance Institute (ACQUIN, Germany) held a seminar focused on the issues of joint and international accreditation of Russian higher education programmes. The event was hosted by the Financial University under the Government of the Russian Federation, Moscow, Russia.
Presentation given by Galina Motova, NCPA Deputy Director
The seminar was mainly addressed to Heads and Senior officers of quality management departments from federal universities of Russia. The seminar was targeted at this audience due to growing aspiration of federal universities to be granted accreditation of their study programmes by quality assurance agencies recognized in Europe and internationally, which is reflected in the programmes for development of these HEIs.
The seminar brought together representatives of the following Russian HEIs:
• Immanuel Kant Baltic Federal University (Kaliningrad),
• Far Eastern Federal University (Vladivostok),
• Kazan (Volga region) Federal University (Kazan),
• Northern (Arctic) Federal University named after M. V. Lomonosov (Arkhangelsk),
• North Caucasian Federal University (Stavropol),
• Siberian Federal University (Krasnoyarsk),
• Ural Federal University named after the first President of Russia B. N. Yeltsin (Yekaterinburg),
• Southern Federal University (Rostov on Don and Taganrog),
• Perm National Research Polytechnic University,
• South Ural State University (Chelyabinsk),
• St.Petersburg State Polytechnical University,
• N.I. Lobachevsky State University of Nizhni Novgorod,
• N.G. Chernyshevsky Saratov State University,
• Financial University under the Government of the Russian Federation.
| | |
| --- | --- |
| | |
| Speech of Kakhaber Ebralidze, ACQUIN Referent | Speech of Dagmar Trestikova, ACQUIN Referent |
NCPA Director Vladimir Navodnov and Galina Motova, NCPA Deputy Director, made presentations on the issues of international accreditation of Russian study programmes,and opportunities and prospects of delivering collaborative projects aimed at accreditation of these programmes. Kakhaber Ebralidze and Dagmar Trestikova, ACQUIN Referents, spoke about the aims, principles and methodology of the ACQUIN accreditation procedures; they also shared their experience in quality evaluation of foreign, including Russian, higher education programmes.
The audience showed great interest in the presentation given by Maria Efimova, Head of the Department of International Activity Organization of the Southern Federal University's International Relations Office, who shared her university's experience of international accreditation of study programmes.
At the end of the seminar NCPA and ACQUIN signed a bilateral cooperation agreement, opening new prospects for further collaboration between the Russian and German accreditation agencies in delivering joint projects in the sphere of quality assurance in higher education.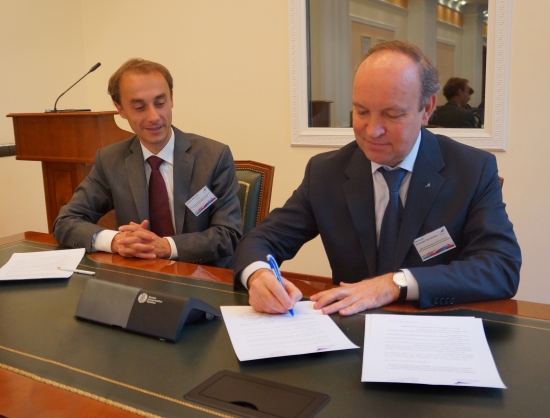 Director of NCPA Navodnov V.G. signs the bilateral cooperation agreement with ACQUIN