The INQAAHE Members' Forum of 2012 was held on Tuesday 17 and Wednesday 18 April in Melbourne, Australia. The event was hosted by the Tertiary Education Quality and Standards Agency (TEQSA).
The participants of INQAAHE Forum 2012
More than 130 participants from different countries took part in this biennial event, which was conducted for the sixth time by INQAAHE – a sort of UNESCO in quality assurance. Director Prof. Vladimir Navodnov and Deputy Director Prof. Galina Motova represented the National Center of Public Accreditation.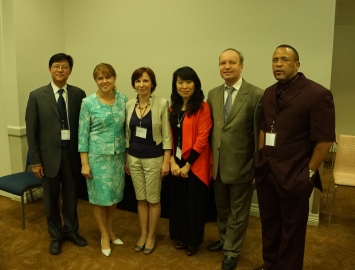 NCPA Director Navodnov V.G. and Deputy Director Motova G.N. during the Forum
| | |
| --- | --- |
| | |
| Presentation of Iring Wasser, Germany | Presentation by David Woodhouse, Australia |
The overarching theme of the Melbourne Forum was "The future of external quality assurance".
Dorte Kristoffersen, TEQSA Commissioner, gave a welcome speech, introducing the new quality assurance agency, established in Australia in January 2012.
María José Lemaitre, INQAAHE President, Executive Director, CINDA (Centro Interuniversitario de Desarrollo, Chile), gave a keynote speech on the topic "Quality assurance for higher education: does it make a difference?" In her presentation María José Lemaitre told about the project which was designed and carried out by CINDA in cooperation with INQAAHE, RIACES and QA networks.
24 universities from 16 countries took part in the project, which main objective was to improve the management of quality of higher education, both at the national system and the institutional levels, and contribute to improve knowledge and trust about the quality of higher education between Latin American and European countries.
The discussions were devoted to a certain aspect within the framework of the conference theme "The future of external quality assurance":
• Developments in the Methodology of External Quality Assurance
• Institutional Diversity and Quality Assurance
• Internal Quality Assurance and the Development of an Institutional Quality Culture
• Changing Perceptions of the Independence of EQAs
On Monday 16 April an INQAAHE Board meeting was scheduled and the Regional Networks meeting took place on Thursday 19 April.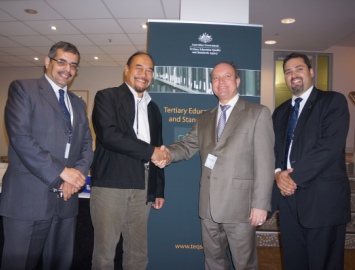 NCPA Director Navodnov V.G. during the Forum

The working moment of the Forum

María José Lemaitre has pointed out that INQAAHE Members' Forum brings together practitioners and specialists from all over the world, thus is the place to discuss topical issues, exchange experiences and learn from each other, which has been reaffirmed at the INQAAHE 2012 Forum.
The Forum presentations are available on the official website of INQAAHE