The ENQA Members' Forum 2012, focused on the Impact of QA and Independence of Agencies, was organised in cooperation with the Evaluation Agency for Research and Higher Education (AERES) was held on 23-24 April, 2012 in Paris, France.
The Members' Forum 2012 provided a platform for discussion on the following two topical issues:
Impact of Quality Assurance
Many countries have or are planning to evaluate the impact of their external quality assurance system; the interest among member agencies to discuss this topic is great. The 2012 Members' Forum will continue the discussion initiated at the two previous General Assemblies.
ENQA wished to explore the question whether external QA really enhances the quality of HEIs and their services and launched the Working Group on Impact of Quality Assurance. The Call for Members' expressions of interest in joining this group was open until March 15th.
Another issue of great interest to QA agencies is independence, as it is a prerequisite for credibility and mutual trust and is one of the main features of the European dimension of QA. ENQA wished to explore which the main threats to independence are and how to ensure harmony between agencies, government and HEIs.
In addition, two keynotes were presented on:
the Bologna Process after Bucharest in view of the upcoming ministerial conference to be held on 27-28 April 2012;
the current and future priorities of the European Commission on QA in HE.
The following presentations were introduced during the plenary sessions:
«Future Perspectives of Quality Assurance: Focus on Excellence in Higher Education» (Helka Kekäläinen, FINHEEC, Finland, Vice-President of ENQA);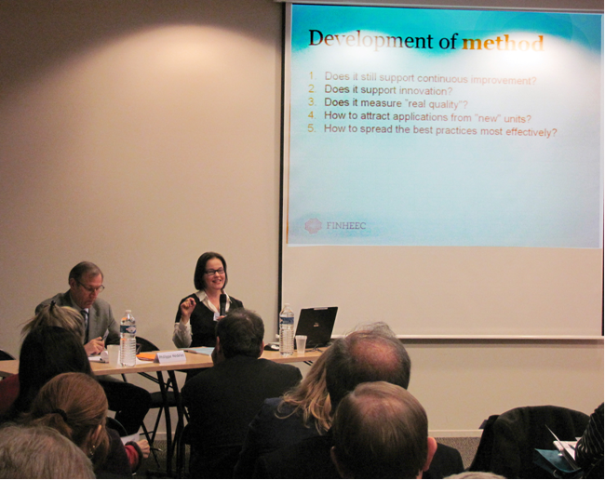 Presentation made by Helka Kekäläinen, Finland

• «Impact Analysis of Quality Assurance of Higher Education Institutions» (Theodor Leiber, EVALAG, Germany);
• «Measuring Impact, enhancing EQA» (Josep Grifoll, AQU Catalunya, Spain);
• «Impact of Quality Assurance (IQA) - A contextual analysis in France» (Patricia Pol, AERES, France);
• «How to increase the independence of QA Agencies? Major challenges and how to overcome them» (Didier Houssin, President of AERES, France);
• «Limits to Independence» (Karl Dittrich, NVAO, The Netherlands, ENQA Board member);
• «The Bologna process after Bucharest: Challenges and expectations» (Peter Scott, Prof. of Higher Education Studies, Institute of Education, University of London, UK).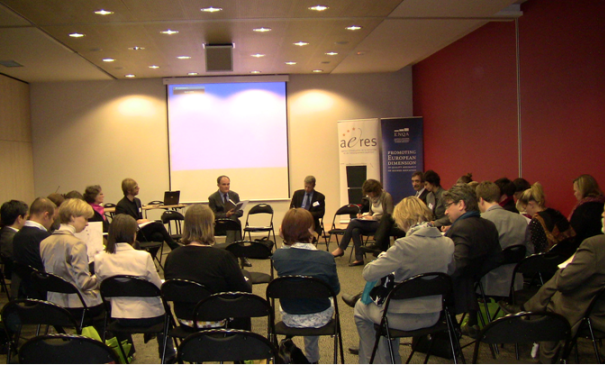 On the section session of the Forum


More than 70 delegates from 48 agencies from 31 European countries took part in this Forum. Zhanna Kuzminykh, the head of the International Relations Department of NCPA, presented the National Centre of Public Accreditation in the Forum.
More information is available on the official website of ENQA