INQAAHE Conference - 2011
The 2011 Biennial Conference took place in Madrid, Spain from the 4th till the 7th of April, 2011. The National Agency for Quality Assessment and Accreditation (ANECA) was hosting this conference).
During the conference INQAAHE's 20th anniversary was celebrated. His Royal Highness the Prince Felipe de Borbón y Grecia, Angel Gabilondo, Spanish Minister of Education, and Zulima Fernández, Director ANECA, gave a welcome speech.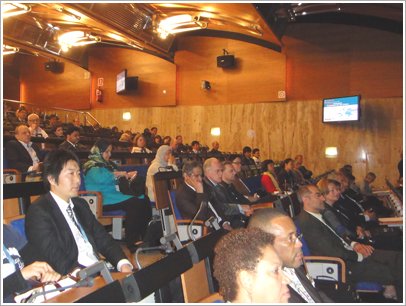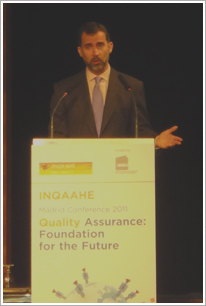 His Royal Highness the Prince Felipe de Borbón y Grecia welcomes the participants of INQAAHE-2011
INQAAHE President David Woodhouse presented a report on the activity of the organization in 2010, where he enumerated the main achievements of INQAAHE.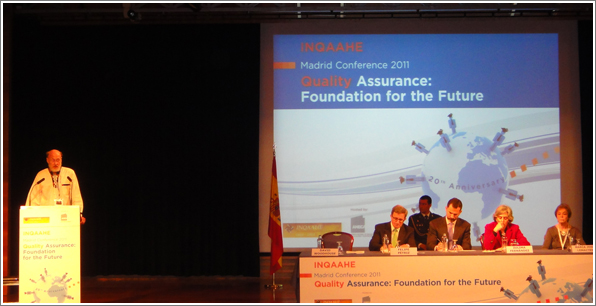 Presentation of David Woodhouse, the former president of INQAAHE
On 4 April several workshops were held relating to the following topics: "Standards, learning outcomes and program accreditation", "Managing an external quality assurance agency", "Internal QA systems within HEIs" and "Effective site visits".
Each of the following days was devoted to a certain aspect within the framework of the conference theme «Quality Assurance: Foundation for the Future":
• Globalizing forces and national/regional goals in higher education: emerging issues (April 5);
• Professionalization of quality assurance (April 5);
• Effective QA processes for diversity, development and sustainability (April 6);
• Independence of QA vis a vis different stakeholders (April 7).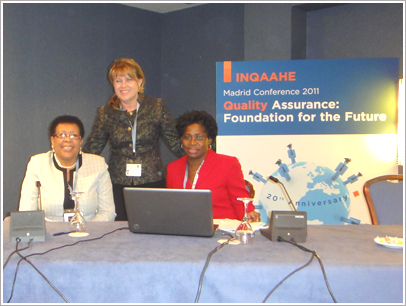 More than 300 representatives of QA agencies from 74 countries participated in the conference. Deputy Director Prof. Galina Motova represented the National Center of Public Accreditation.